The Truth About Alice by Jennifer Mathieu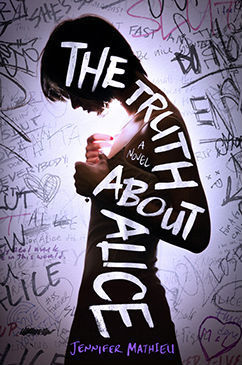 Publication Date:
June 3, 2014
Publisher:
Roaring Brook Press
Genre:
Young Adult Contemporary
Source:
eARC provided by NetGalley
Summary
Everyone knows Alice slept with two guys at one party. When Healy High star quarterback, Brandon Fitzsimmons, dies in a car crash, it was because he was sexting with Alice. Ask anybody. Rumor has it Alice Franklin is a slut. It's written all over the "slut stall" in the girls' bathroom: "Alice had sex in exchange for math test answers" and "Alice got an abortion last semester." After Brandon dies, the rumors start to spiral out of control. In this remarkable debut novel, four Healy High students tell all they "know" about Alice--and in doing so reveal their own secrets and motivations, painting a raw look at the realities of teen life. But in this novel from Jennifer Mathieu, exactly what is the truth about Alice? In the end there's only one person to ask: Alice herself.
My Review
Note: I received a digital review copy from the publisher in exchange for an honest review. This is a spoiler free review.
The Truth About Alice
, by Jennifer Mathieu is a book that I think everyone should read. It's a beautifully written book about a tough subject: bullying and rumors. It is told from the point of view of four different characters, but the story isn't about any of them, it is about Alice, the victim of the rumors and bullying. It isn't until the very last chapter of the book that we finally get to see her point of view. The characters, while occasionally cliche, where very realistically written and all of them where well-rounded characters that fel like real people, not just flat, secondary characters. The only thing I wish was that the book was longer, not because it didn't feel like a satisfying ending, but because I just didn't want the book to end.
The best part of this book was the multiple point of views. This method of telling the story mirrors just how rumors are spread from person to person, and how it seems to spiral out of control before the victim, in this case Alice, can do anything about it. It's also very interesting to see just how so many people end up getting involved into something that they never should have been involved with in the first place. Rumor's spread so easily and this book portrays the horror that the victim experiences as a result.
I loved the character development of our four narrators: Elaine, Kelsie, Josh, and Kurt. We get to see, through each of their point of views, how intricately connected they are at a deeper level because of what happened to Alice. They each play a part in the backlash Alice receives as a result of all the rumors swirling around her and they each react very differently. At the beginning, they appear to embody the stereotype they are meant to represent but as the story progresses we see that they are people with their own stories, worries, and fears. I think including this aspect of the typical bully vs. bullied story is very important and Mathieu does it well.
We get to know Alice through their eyes and surprisingly, learn a lot about her. I was worried how Alice would be developed as a character since we don't actually hear from her at all until the very end, but I was not disappointed. Even though I didn't here her side of the story, it all cam to light through the multiple view points
The Truth About Alice
reminded me somewhat of
Thirteen Reasons Why
by Jay Asher because of how it showed how little things that people do can affect someone's life so dramatically. If you enjoyed that book I recommend that you pick up this new book from Jennifer Mathieu. There are people are lucky enough, myself included, to never be on the receiving end of life-altering rumors like the ones Alice experiences, but there are many more who have had to deal with such a horrifying experience. I hope that everyone will pick up this book just so they can realize what the effects of one little lie can do to a person. Overall, I loved
The Truth About Alice
and would highly recommend it.
My Rating:
5

out of 5 stars