Hi lovely readers! I'm back after a long hiatus and I am very excited to be blogging again. I'm even more excited to be part of the blog tour of Kate Akins' debut novel, Loop. As part of the blog tour, I'm thrilled to be bringing you author Kate Akins for a guest post where she talks about her journey as an author and how she got to where she is today.
About the Story
Loop by Karen Akins

Publication Date: October 21, 2014

Publisher: St. Martin's Griffin

Genre:

Young Adult Science Fiction
Summary
At a school where Quantum Paradox 101 is a required course and history field trips are literal, sixteen year-old time traveler Bree Bennis excels…at screwing up.
After Bree botches a solo midterm to the 21st century by accidentally taking a boy hostage (a teensy snafu), she stands to lose her scholarship. But when Bree sneaks back to talk the kid into keeping his yap shut, she doesn't go back far enough. The boy, Finn, now three years older and hot as a solar flare, is convinced he's in love with Bree, or rather, a future version of her that doesn't think he's a complete pain in the arse. To make matters worse, she inadvertently transports him back to the 23rd century with her.
Once home, Bree discovers that a recent rash of accidents at her school are anything but accidental. Someone is attacking time travelers. As Bree and her temporal tagalong uncover seemingly unconnected clues—a broken bracelet, a missing data file, the art heist of the millennium—that lead to the person responsible, she alone has the knowledge to piece the puzzle together. Knowledge only one other person has. Her future self.
But when those closest to her become the next victims, Bree realizes the attacker is willing to do anything to stop her. In the past, present, or future.
"Writing Journey": A Guest Post by Karen Akins
Lourdes:
Thank you so much for having me on your blog today to celebrate the release of LOOP!
I started writing six years ago, which is easy to keep track of because I put my first word to paper right after my older child was born. Writing was never really an endeavor I'd considered growing up. I'm from a small town in a small state. I'd never met any authors in real life, and it seemed like this otherworldly, magical existence. Like, somehow unicorns and trained kittens were involved. (Although, six years and who knows how many words later, I still think there's some magic that goes into storytelling).
Where was I? Ahh, yes. At home, alone with a newborn. I've always been a passionate reader, and I started reading tons of picture books to him. Pretty soon, my little mind was churning with ideas for picture books, and I jotted down a few rough drafts.
It was also at this point that I realized I had absolutely no idea how a book actually comes to be. I literally googled, "How to write a children's book." Thankfully, the first thing that popped up was a link to the Society for Children's Book Writers and Illustrators (SCBWI). They have been instrumental in helping me move forward along my journey. They also had a contest going on at the time: Summarize a classic children's book in four words. I submitted an entry for Corduroy. "Obsessive bear seeks closure."
I won! The prize was a year's membership to SCBWI. Through them, I learned the in's and out's of the publishing process, and I joined a critique group (who have since become some of my closest friends).
Even more, in the Kid Lit community I found my tribe.
I had puttered around with a few YA ideas because I love reading it so much, but there was nothing really happening there. Then one night, I fell asleep while watching my husband play a video game and had a super vivid, action-packed dream. Right before I woke up, I dreamt a twist. (Yes, my dreams sometimes have plot twists.) The boy in my dream was already in love with the girl's future self.
I woke up and went, "Huh." Then I started scribbling the first few pages. Interesting enough, the first page of LOOP has changed very little from that original draft. With all my revisions, that's the one scene that has stayed almost identical to my original vision, a time traveler's feet hitting cobblestone and wondering where she is.
Even writing those first few pages, I felt a spark I'd never felt with a story before. It was the first time that I seriously wondered if it could be "The One."
Someone was hosting a blog fest right after I'd started writing LOOP in which you were supposed to post your first page of your WIP. On a lark, I posted my first page of LOOP. I can't express my shock when an agent sent me an e-mail asking to read it after it was done. Suddenly, I had this huge carrot in front of me to finish it and make it sparkly.
Fast forward some false starts and close calls later…I entered LOOP into the 2011 Baker's Dozen Agent Auction. There were already a few agents with the full, and I had several more request to read it through the auction. I ended up signing with my agent Victoria Marini as a result.
After a round of revisions with her to make it extra-sparkly, it sold quickly to St. Martin's Press in 2012!
Fast forward another baby and more revisions later…I can't believe LOOP is really out in the world!! Even with all the twists and turns I've had in the journey, I love that it's still the same sweet, funny, action-packed fun love story that came to me in a dream. And even now, I probably have a bruise on my arm from pinching myself.
Thanks again for having me! I hope everyone enjoys LOOP. <3
About the Author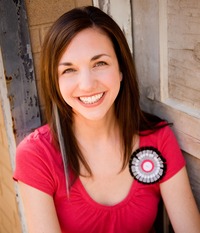 Karen Akins lives in the MidSouth where she writes humorous, light YA sci-fi. When not writing or reading, she loves lightsaber dueling with her two sons and forcing her husband to watch BBC shows with her.
Karen has been many things in her life: an archery instructor, drummer for the shortest-lived garage band in history, and a shockingly bad tic-tac-toe player.
Find her online at
karenakins.com
and on Twitter at
@karen_akins