Tiger Lily by Jodi Lynn Anderson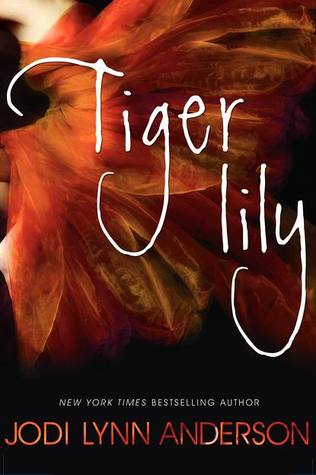 Release Date:
July 3, 2012
Publisher:
HarperTeen
Source:
Library
Summary
Before Peter Pan belonged to Wendy, he belonged to the girl with the crow feather in her hair. . . .
Fifteen-year-old Tiger Lily doesn't believe in love stories or happy endings. Then she meets the alluring teenage Peter Pan in the forbidden woods of Neverland and immediately falls under his spell.
Peter is unlike anyone she's ever known. Impetuous and brave, he both scares and enthralls her. As the leader of the Lost Boys, the most fearsome of Neverland's inhabitants, Peter is an unthinkable match for Tiger Lily. Soon, she is risking everything—her family, her future—to be with him. When she is faced with marriage to a terrible man in her own tribe, she must choose between the life she's always known and running away to an uncertain future with Peter.
With enemies threatening to tear them apart, the lovers seem doomed. But it's the arrival of Wendy Darling, an English girl who's everything Tiger Lily is not, that leads Tiger Lily to discover that the most dangerous enemies can live inside even the most loyal and loving heart.
From the New York Times bestselling author of Peaches comes a magical and bewitching story of the romance between a fearless heroine and the boy who wouldn't grow up.
My Review
When I first picked up Tiger Lily and read the jacket copy I was immediately drawn to the premise of the story. It wasn't until a few months later that I finally got a chance to read the book that sounded so interesting those many months ago. There are a lot of re-tellings of classic fairy tales but Tiger Lily was unlike any I had read before. You are taken to a Neverland unlike any other and as a "prequel" to the classic story Peter Pan, Tiger Lily hits the nail on the head.
From the title you would expect Tiger Lily to be the narrator of the story. I was somewhat pleasantly surprised to discover that the story is told from Tinker Bell's point of view. It is difficult to deviate from the typical first person or third person omniscient point of view that is so prevalent in today's literature. Because of Tinker Bell's unique abilities you get the knowledge that comes with the third person point of view while still getting the more personal feel of a story told through first person point of view. It took me a while to get used to this style of narration and to connect with the characters but once you get into the story there is no going back.
The relationship between Peter, Tiger Lily, and Tinker Bell is what really makes this book stand out. This is no Disney's Peter Pan. Each character is given such a rich personality and relationship to the other characters that you can feel the thrill when of happiness when Peter and Tiger Lily are together, the love yet envy Tinker Bell has for Tiger Lily and the pain that comes with heartbreak in each of these characters.
This is neither a hard-core adventure nor a hard-core romance. There are a little bit of each that makes the story what it is. You won't find any man-to-man combat between the pirates and the lost boys nor will you find deep romantic scenes between Peter and Tiger Lily. The story is very plot-driven rather than action-driven and while this may be unappealing for some, it works for the characters and plot of this story.
Overall, I think T
iger Lily
was a great read and I would definitely recommend it. Themes of being true to yourself and not changing for others resonate through the novel. The overall plot was fantastically written and even though I found it difficult to connect to with the characters at first, by the end, I din't want to part from them or from Neverland.
My Rating:
4

out of 5 stars